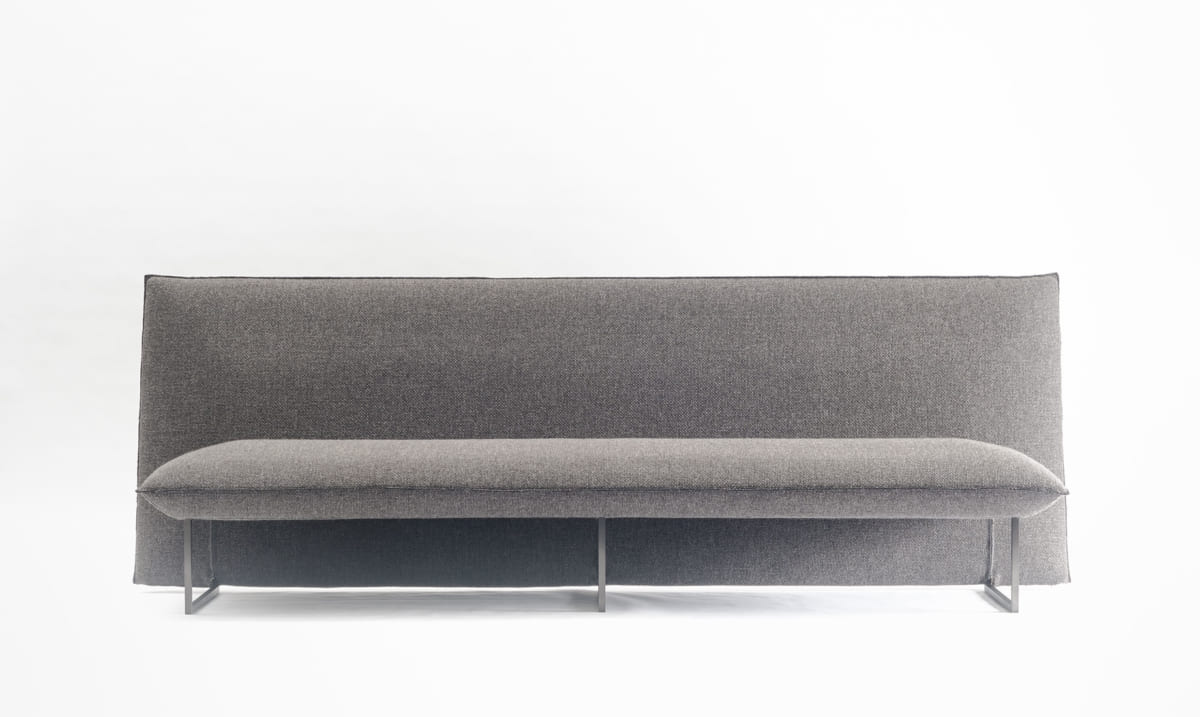 "Can you make a sofa that looks like two zabutons are combined?" The development of the FU sofa began with a request from Kengo Kuma. For Japanese people, the zabuton is a familiar in-room furnishing. It is a cushion placed under the buttocks when sitting on a tatami mat or on the floor. The thickness is commonly about 10 cm. The theme was how we could realize the cushioning characteristics as a sofa while maintaining the thinness of the cushion.
The production of a sofa frame requires a thickness of at least 15 cm or more to maintain cushioning characteristics and stability when seated. Unlike regular sofas, this seating surface must have an organic, sharp line where the fullness in the center of the seating surface settles toward the front edge to express the thinness and lightness of the zabuton. The adoption of rubber resin, which is not conventionally used in sofas, delivered both the appropriate cushioning characteristics and stability when seated while maintaining the sharp form.
To stitch the covering, we chose a lockstitch machine. It is a type of stitching using a sewing machine widely used for clothing in the apparel industry. After repeated testing with the sewing machine, we finally found the perfect stitching to provide the strength suitable for furniture. By using the same color stitches for the base material, a smooth curve connects from the center of the seating surface to the front edge, giving a rich expression to the edges. To give a light look that two zabutons are placed on the frame, the
legs of the sofa are designed without arbitrary decorations.
The frame is composed of 14 sq. mm, solid square metal bars. In addition, the back has a space between the floor and the contact surface to make it look as if it were slightly floating. This gap is so small that you might miss it if you do not look very closely. This small space determines the presence of the FU Sofa. Simple concepts seem to have difficulty in sustaining the initial idea to bring to fruition. To convert this difficulty into a tangible form, scrupulous attention to detail and careful thought are essential and vital.