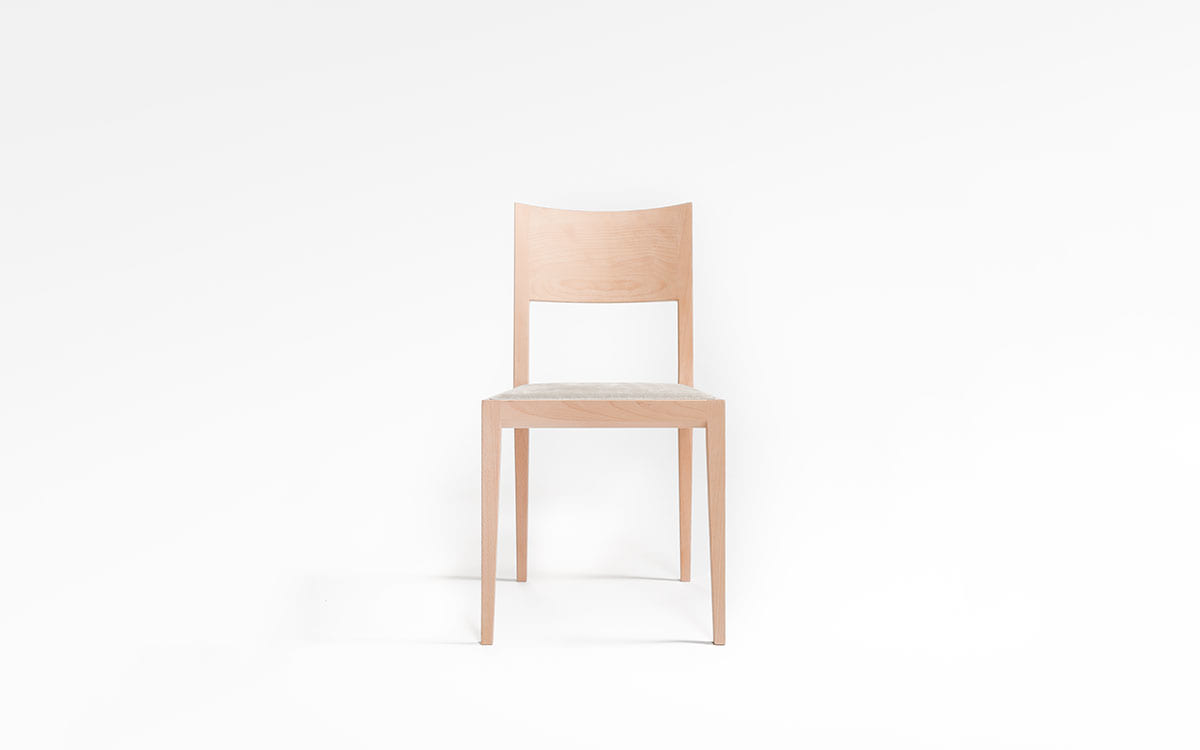 The chair Tree was designed by eliminating all decorative elements. It was made by excluding every unnecessary element in its structure and design. The width and depth of the seat, as well as the width and height of the backboard were defined to achieve a durable and balanced size for long-term usage, while keeping the size compact and minimal. The chair was made as simple as possible. A solid wood piece of lumber was bent and carved to form the required, curved backboard, to provide a sense of unity with the back posts. In order to maintain the thinness of the seat while providing proper cushioning, a Dymetrol seating with superb elasticity was used, and then it was covered with fabric. Weight was reduced by eliminating unnecessary parts from the seat rails, which comprise the seat.
This simple, portable, and stable chair can be single-handedly carried by women or elderly people. The expression of the large solid-wood backboard enhances the texture of the chair, resulting in the creation of a unique presence.
15 years after first production of Tree, the chair has maintained its freshness as a universal presence without changing any elements. Some elements from Japanese shrines and wooden architectures are included in the simple construction of the chair. The Japanese aesthetic of subtraction is expressed in this chair with minimum decoration. In terms of required strength to survive rough handling in everyday use, it has something common with small Japanese wooden architectures. The structure of the beautiful wooden architectures consists of simple composition and joints, while taking advantage of the characteristics of wood.
Our aim was the creation of a Japanese chair, which can be placed in and naturally blends into Japanese living spaces as well as modern spaces. We pursued a simple chair, possessing modern Japanese elements and a universal presence.