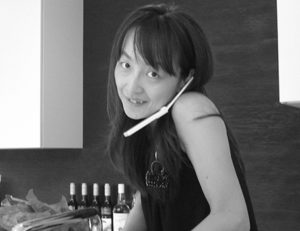 Designer
Product : Conbrio
What does Abe see beyond designing?
The answers are always "people" and "living" for her.
It sounds like common sense, but quite a number of designers do not place emphasis on these elements.
CONBRIO is a coat hanger filled with a playful mind like an art object, which is built with some fun contrivances. On the tip of each twig, it has a wooden round bar with a leather strip extending from a white post, and it becomes a small hanger to hang jackets or coats when it is pulled out. She designed the coat hanger, envisioning a surprising smile from those who see it and the communication generated from it. While it has a distinct design, it brims with somewhat discreet and mysterious existence.
Every design created by Abe is filled with the happiness and pleasure found in daily life. As she says, "I do not push myself hard," she enjoys designing furniture from the perspectives she had experienced after she got married, had kids, and started living with her children, such as inconvenience and a little ingenuity in everyday life. She wants to make things that exist together in daily life, which are ordinary things and loved for a long time, not something unaffordable.
Abe is engaged in a broad array of design projects from design for traditional Japanese crafts to interior design dealing directly with clients to designing for self-expression. Although the place of work and the way of expressing physical appearances differ, respectively, there are always an underling kindness and a sharp eye toward people and living without loosing her focus. The reason why her design does not give an impression of imposition and self-satisfied strength is that she holds an inquisitive mind trying to find out what techniques and strengths are held by those who make the design by living with the people who use it as the premises for designing. To her, designing is to convey the charms of things straightforwardly, without adhering to design and limiting to her own style. It is an approach giving a sense of feminine flexibility, which goes back and forth at a neutral stance between the users and designer.